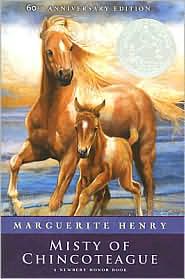 Time for a Bookworm Roadtrip! This week we took a trip to
Chincoteague, VA
in order to explore the home of Misty and see the legendary wild ponies on Assateague. T and my mom excitedly read
Misty of Chincoteague
in preparation. T is a tad young (5) for the book, but I picked up a copy of it on CD at the library so he could re-listen to it a few times for greater comprehension and vocabulary development.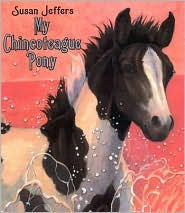 S (3) is definitely too young for
Misty
, so we found this wonderful picture book at the library for him instead: Susan Jeffers's
My Chincoteague Pony
. S fell in love with the featured pony, Painted Dream.

We also found a couple of non-fiction picture books that everyone enjoyed:
Assateague: Island of Wild Ponies,
by Larry Points, and
Wild Ponies of Assateague
by Donna Grosvenor.
All of my babies have loved the Usborne
That's Not My...
series, and A is no exception.
That's Not My Pony
goes well with the Chincoteague trip for infants. I also include her
Indestructible
book here because it has a picture of a horse on it and apparently tastes good. :)
We had a grand time on the islands of Chincoteague and Assateague. Here is a view of some of the ponies from our car window as we were driving through the national park.
We also took Spider's boat cruise and enjoyed the local stories as well as more pony sightings:
Here is the statue of Misty in downtown Chincoteague:


If you are traveling to Chincoteague in celebration of Marguerite Henry's book and want the complete experience, do stay at
Miss Molly's Inn
. It's where she stayed while writing. Since I have 3 kids under 6, however, and 2 of them are boys, I chose not to curse the nice bed and breakfast with our presence. I wish I could say I supported local business and was a good eco-tourist, but we stayed at the
Comfort Suites
instead. Free wireless, pool, breakfast... you know the deal.
We did a number of activities to support pony days and the Chincoteague trip. For dramatic play this week my mom had a cute idea of setting up a pony show and auction with some little plastic toys and a pile of change. It was a great opportunity to introduce the names of coins (for S) and some simple addition (for T).
When we got home I tossed the ponies into a sensory tub with some hay. Well, guinea pig hay, but hay nonetheless. Later I'll feed the leftovers to the critter.
T kept a journal of our trip. He drew tons of pictures that I put together into a book; here are a few of them. The green jeep features prominently. Notice the pile of pony poop we saw on the road.
This sock horse craft was a fun activity for T. All I used was some felt for ears, a sharpie for eye and nose holes, a bit of ribbon, and a leftover dowel rod. Well, and an old sock of mine. Later we might go back with some yarn and add a mane, but he likes it like this for now. Its name is Sockpony.
In closing, here are a few fun bounce games, fingerplays and poems about ponies. Baby especially loved the first one:
I have a little pony, her name is Macaroni (bounce on knee)
She trots and trots and then she stops (dramatic stop for long enough for baby to notice)
Funny little pony (trot gently), Macaroni (hug and rock back)
I had a little pony
that trotted up and down.
I bridled him and saddled him
and rode him out of town!
Ride A Pony(bounce baby on knees)
Ride a pony, ride a pony
Into town,
When you get there,
Don't fall down!(drop baby gently down)
I found this cute galloping chant, where kids gallop around the room, at
preschool rainbow:
Galloping, galloping, galloping,
How fast my pony can go,
When he's tired we'll come home,
Slow, slow, slow.
Ten Little Ponies


Ten Little Ponies in a meadow green,
(Hold up ten fingers)
Ten little ponies, friskiest ever seen,
They go for a gallop,
(gallop hands)
They go for a trot
(trot hands)
They come for a halt in the big feed lot
(keep hands still)
Ten little ponies fat and well fed
Curl up together in a soft, straw bed.
(close up fingers in hand)
Want another gorgeous horse craft made from your child's footprint? Check out this one
at funhandprintart.
I'm not sure yet what we'll do next week. Maybe we'll stick to the themes from our trip and do seashells, or maybe I'll return to some spring motifs. Come back next week to find out!