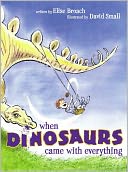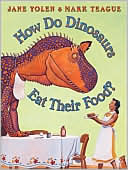 This week I have some catching up to do, so I'll post on a continuing theme at our house: Dinosaurs! Some of our favorite dino books include the "How do Dinosaurs..." series, especially
How do Dinosaurs Eat their Food
. We also very much like
When Dinosaurs Came with Everything.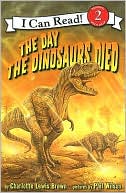 When I asked S what his favorite dino book was, he said
Ten Terrible Dinosaurs
. T, my budding reader, answered with the gruesome
Day the Dinosaurs Died
.

Baby likes the Usborne book,
That's not my Dinosaur
, because it's so touchy-feely.
Bonus chapter book for young readers or for read-aloud: Magic Treehouse number 1, Dinosaurs before Dusk!
I know there are tons of awesome dinosaur books out there, and we've barely scratched the surface with this selection. Do share your own favorites in the comments section.
Since the boys are such huge dinosaur enthusiasts, I looked into getting a playmat for their plastic toys. The prices were enough to blow a meteor-sized hole in my budget, so T helped me make a felt one instead. It was lots of fun, except that he had lots of demands to include mountains, dinosaur bones, a lake, and something called the "mysterious beyond." The whole project was challenging at first, when I was trying to sew it, but when I discovered wonder under and ironed all the stuff on instead, it became a breeze. Next on tap is a car playmat!
My favorite dinosaur fingerplay came from
Yakaberry:
Dinosaurs
Dinosaurs lived long ago.
Some walked (stomp in place)
Some swam (pretend to swim)
Some flew, you know! (flap arms at sides)
Some were big (hold hands high)
Some were small (hold hands low)
Some were gigantic--(stretch arms out wide)
V-e-r-y tall! (stretch arms up high)
We also enjoy Laurie Berkner's song,
We Are the Dinosaurs
, which lends itself well to dancing. Buy the album or just the MP3 at
Amazon.
There's also a cute song called
Dinosaur Round
on Sandra Boynton's album, "Rhinoceros Tap."
Last year we even had a dino birthday party. I'll share a few of our activities.
Painting wooden dinosaurs from Oriental Trading:
Digging for dinosaurs in the colored-rice sensory bin (you could use a sandbox for this, too). Got the dinos from
Oriental Trading
, too.
And this was my T-rex cake. It will come as no surprise that I'm no cake decorator, but with the help of some laffy taffy, candy corn and gummy life savers I did what I could.
I have lots of other dinosaur activities and books and fun times, but they'll have to wait for a later post because it's time to get cracking on this week's theme: Zoo! See you in a few days...