Happy St. Patrick's Day! This post is full of fun with Shamrocks, Irish food, and stories about the traditions behind St. Patty's. As with many holidays, the selection of related books varies from cheesy or uninspired to really fun and creative. I found a few cool ones at our library.
Here's some lift-the-flap fun for younger readers in
Hooray for St. Patrick's Day
.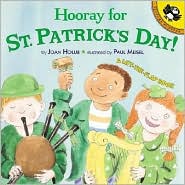 And even though the plot is a bit lacking, the story of how they celebrate
St. Patrick's Day
in Mrs. Madoff's classroom is an easy and fairly engaging way to learn the origin of many traditions: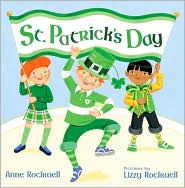 In
A Fine St. Patrick's Day
a leprechaun-like dude makes his appearance in a decorating competition between two towns. It's more suitable to the older pre-k - 2nd grade set: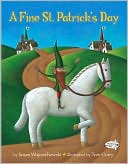 And here's one more book for older picture-book readers, it provides historical context of the contributions of Irish Americans and some of the conditions people endured both in Ireland and as immigrants in America. The history is pretty palatable, though, because it's woven into the plot:
A St. Patrick's Day Shillelagh.

My boys, ages 3 and 5, both enjoyed the pre-printing Shamrock (trace the dotted line)
at coloring.ws
, and Theo also did the color-by-letter pot of gold.
Sascha
really
loves counting rhymes, so of the many leprechaun/ shamrock/ St Patty's poems I found, I picked this one for our family from
DLTK's
fabulous kids' site:
One green shamrock, in the morning dew,
Another one sprouted,
and then there were two.
Two green shamrocks, growing beneath a tree;
Another one sprouted,
and then there were three.
Three green shamrocks, by the cottage door;
Another one sprouted,
and then there were four.
Four green shamrocks, near a beehive
Another one sprouted,
and then there were five.
Five little shamrocks, bright and emerald green,
Think of all the luck
these shamrocks will bring.
We made some shamrocks to go on the felt board with this poem. There's a template on DLTK's website, but I just drew my own because the printer was on the fritz. I let the kids go wild with the felt and google eyes. We tried to make different expressions on the faces, somewhat unsuccessfully, but it was fun anyway. Even better than the counting poem was the game where a wild cow shows up on scene and tries to eat the magic shamrocks...
We tried to do
this crayon resistance art project
, but I think maybe the paint was too thick or something... the image didn't really show through well, and our cheap construction paper had trouble handling the paint, too. Either I'm doing something wrong or the resistance crayon work is better left to watercolors.
Theo said, "I don't think your project worked." Doh! So he decided to just make a field of shamrocks instead, using heart shapes of green construction paper on a scrap of blue.
After our craft mishaps, I decided to get a little adventurous with food, too. I guess I'm hard-headed like that. Most years I make
Avocado Pie
, since it's green and all, but this year I went a more traditional route with this (very easy)
Irish Soda Bread
and some slow-cooker
Lamb Stew
. We'll make the stew closer to actual St. Patty's Day, and if it turns out half-way decent I'll post a picture.
Here's our Soda Bread. Sascha is my little cook-- he eagerly measured everything out and dumped it in the Kitchenaid. We probably should have smoothed it out a little more. Also, as I always do with bread, I got nervous and pulled it out too early, so it was a tad raw in the middle. Still tasted fabulous in the cooked-through parts, though. I followed a baker's advice and used a tiny bit extra buttermilk and butter instead of margarine. Yum! The kids liked it, too.
Want some more fun for St. Patrick's Day? Check out this blog, and all the wonderful links from other blogging parents:
A Mommy's Adventures
What's Mama's favorite way to celebrate St. Patrick's Day? Watching Harrison Ford and Tommy Lee Jones run through the famous Chicago parade in
The Fugitive
, of course. That movie was my first reference to Chicago's tradition of dying the river green.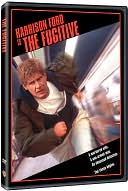 If I were a beer-drinker I'd probably reach for a Guinness... but since I'm not I'll veg out with a glass of wine and listen to John Mayer's very cool song,
St. Patrick's Day
, from his
Room for Squares
CD.
See you next week!