This week we're reading books about the circus! We enjoyed
Sidewalk Circus
, but like many picture books the story is subtle and takes a bit of active discussion on each page in order to discover the mysteries.
Olivia Saves the Circus
is another good one in Ian Falconer's Olivia series and a celebration of the imagination.
Lois Ehlert's distinctive illustrations are, as always, a hit in her book titled
Circus.
We also like
The Secret Circus
, which is particularly useful for a budding reader because the phrase "Only the mice know..." repeats itself every page. See below for some bonus circus books after our activities.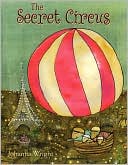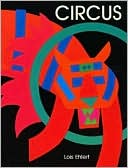 Our fingerplay this week came from mom's old book again,
Ring A Ring O' Roses:
I Wish I were a Circus Clown
I wish I were a circus clown
(point to self)
Wish smile so wide and eyes so round,
(Make wide smile with hands and place around mouth)
With pointed hat and funny nose,
(Make a tent of hands and place on head)
And polka dots upon my clothes,
(Point to clothes)
To hospitals and homes I'd go
Where children cried when they felt low,
(Rub eyes with clenched fists)
I'd make them dry their salty tears
(Dry eyes with hands)
By wiggling my floppy ears.
(place hands on ears and wiggle them)
Next up is our art project, and I found an absolutely glorious one (painting a clown) at my favorite art website,
Deep Space Sparkle
. I am away from home still this week, so my chaotic heap o' art supplies is not available. We used markers instead of paint, and haven't glued it to black paper yet, but it's still pretty neat.
For those interested in a more directed drawing of a clown, there's another nice one
Art Projects for Kids
.
My Itunes is surprisingly sparse in terms of circus music. There's a Kindermusik song on there called "Circus Movements," but without any lyrics I'm left guessing what we're supposed to do during it. Does anyone know? The next song that comes up is Madonna and Antonio Banderas, "Oh What a Circus" from Evita. Awesome! But not quite what I was looking for in our bookworm fun this week.
Fortunately I have a CD of
Little Thinker Circus
that my dad burned off our old (20 years!) cassette tape from when I was a kid. The
Little Thinker
series was so awesome! I spent hours listening to the tapes-- they were a great blend of narration and music, with time set aside for drawing the wonderful things we "saw" (heard about) on our adventures. In fact, I've decided that for my very first giveaway, I'm going to send a copy of this fantastic CD to one lucky follower. :) To enter, become a follower and leave a comment!
Since we're visiting my parents, our dramatic play activity was to dig out an old wooden circus playset that came from East Germany when I was a kid. Ah, nostalgia! If you want your own circus playset,
Plan Toys
has a very nice one, or check out the more expensive
Playmobil version.
One final note: Ringling Brothers has a link to
Educational Activities
on their website. What I saw were geared toward older kids, at least grade school. However, this
balancing activity
seemed like something we could have fun with and adapt for my younger guys.
For some free circus coloring pages, check
Coloring.ws
.
Bonus Circus books:
- Nancy Drew series # 31,
The Ringmaster's Secret
- Circus Girl
(picture book for elementary school)
-
Clown Child
(also a picture book geared toward elementary ages)
-
Adding with Sebastian Pig and Friends at the Circus
(a good one for learning to add)
See you next week, when I think I'm going to try for some summer solstice bookworm fun. Let's see what we can come up with!