We're visiting grandparents in Colorado and we're going for a
train ride!
S is a fiend for trains, so even though we did
the Little Engine that Could
just a few months ago, this week is dedicated to train books and activities once again. Fun times!

Our favorite train books for babies and toddlers are the Usborne
That's Not my Train
(great sensory experience), Donald Crews fantastically simple
Freight Train,
and the rhythmic
Chugga Chugga Choo Choo.
The last one was the first book S memorized from cover to cover.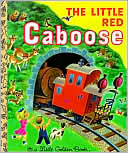 By far my favorite kids' train book is
Trouble on the Tracks
. So clever! "Trouble" is the name of the cat, and you can see the 'monstrous' thing lurking in the shadows of toy train illustrations throughout the book. Fun for reader and child alike.
My kids also enjoy an old classic,
The Little Red Caboose,
and though it's not my idea of great children's literature, the pictures are engaging and it's fun enough. The Native American scenes of teepees on the mountainside aren't exactly PC, but for the older pre-k/ kindergarten set it makes for a cultural talking point.
The Boxcar Children,
which is our current chapter book series. Book One features the boxcar most prominently.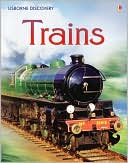 Wow, that was a lot of books this week already, but I would be remiss if I didn't include at least one nonfiction train book. After all, the kids are like little sponges for information. Stephanie Turnbull's Internet Linked book called
Trains
appeals to the kids in our house and is quite educational.
This week's craft was fairly simple but could be adapted to meet any number of desired educational goals. We cut out an engine and some freight cars (artist's choice on the color), then glued them onto a sheet and picked out some freight for them. Our freight was raisins, peanuts, oats and red sprinkles. Add some cotton for smoke and you're done!
You can use this craft for talking about colors (making each car a different one), shapes (make the engine out of basic shapes, and use rectangles and circles for the cars and wheels, respectively), counting (different numbers of items in the cars), etc. The sky's the limit.
T is wearing a Thomas pajama shirt sewed by my old ma.
Now I'll share a fun train fingerplay from the book
Ring a Ring of Roses
(an old book from my mom's time as a nursery teacher a thousand years ago):
Here is the Engine (hold up fingers in order, starting with thumb)
Here is the engine on the track;
Here is the coal car, just in back;
Here is the boxcar to carry freight;
Here is the mailcar. Don't be late!
Way back here at the end of the train
Rides the caboose through the sun and the rain.
We even had a train birthday a few years ago, I'll upload some pictures of that after we get home from traveling... simple train birthday cake and a pinata made out of a cereal box.
For dramatic play we have a few train conductor outfits with toy pocket watches that the kids get out occasionally. They wore them on the train ride this weekend!
The Persuasions sang a train song medley that encompasses many of the great kids' train songs. It's on their album "The Good Ship Lollipop." I also enjoy Johnny Cash's version of the Orange Blossom Special.
To finish off I'll list the train museums we've enjoyed so far, with the hope of many more in our future. Tell me about your favorite train museum in the comments section, if you have one!
-
Korea Railroad Museum
(South Korea)
-
Beijing Railway Museum
(China)
-
Laupahoehoe Train Museum
(Hawaii)
-
Monticello Railway Museum
(Illinois)
-
Colorado Railroad Museum
(Colorado)
Want some more train activities? Check out this great patterning one at
Making Learning Fun
, or a cool cork train at
Cork Crafts
. If you have lots of time and energy on your hands, try making a
train out of milk cartons from Highlights.
I saved the best for last, though: This
Love Train
is super cute, and a possible Valentine activity to boot, with a few more train crafts rolled in for fun at the toddler approved website.